I can still see the home inspector's expression as he shot his photos and wrote up the problems with the new place -- skepticism. Partly it was that it wasn't a man who was taking on the project, and partly it was that wherever you looked, something was wrong. Though the list was long, it was really a collection of individual parts that, when repaired, would make a strong and solid whole. No structural issues, no termite damage.
I had walked through the home with my contractor, who looked and considered and said yes, you can do it. It was his crew who would do the work during their time off, a crew I've done four projects with in the last 12 years, so I was confident. Yes, the place was battered and tattered and yeah, the decks were a scary wreck, but the right people were involved. It was going to be OK.
So here are the pix from yesterday and -- it's magic! actually, it's really good subcontractors -- here's how things turned out.

Here's the house before:
And here it is after:
This is how the side yard used to look:

And here it is now:
>
Remember the driveway with the crazy torn-up skirting and those weird steps?

Better now.
New skirting, a small porch, a rear fence, a garden. (The landscaping guys had to actually jackhammer the soil before we could get started.) We also cut off about 12 feet of the very long car port so the bedrooms and bathroom now have mountain views and beautiful light:
Here's one of my favorite transformations, maybe because turning the broken concrete slab into a faux saltillo tile patio was my own project. Of course the garden and new skirting and new hot water heater door all help. (And that pile of slate? It came with the house and it's what we used in the courtyard, above.)
Before:

And after.
We power-washed the fence and painted it light green, added a two-foot framed lattice, and extended the fence up the hill. We dug and fertilized the flower beds and planted potato vines, white roses, Mexican sage and French lavender.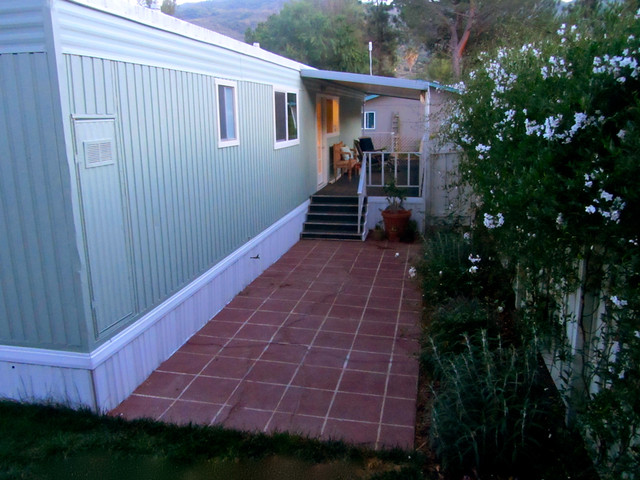 The decks were literally rotted away.

Not any more. (That added window is in what is now the third bedroom. You'll see once we get inside.)
The front steps before:
And after:
And where better to leave our tour than at the front door. Before:

And after:
To be continued...